Home > Food Drive and Community Meal – Sept. 17
Food Drive and Community Meal – Sept. 17
September 17, 2023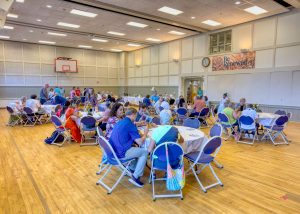 With several key Community Meal volunteers set to be in Gallup, New Mexico during the upcoming mission trip to the Southwest, there are several openings and needs for volunteers at this month's Community Meal, which occurs at 11 am in Fellowship Hall on September 17 following worship service.
If you have volunteered for this wonderful time of fellowship and compassion in the past, we urge you to sign up for this month's edition. If you have yet to donate food or help prep or serve, we encourage you to give it a try! Your heart will be filled knowing you helped bring together your church family, while also providing a delicious meal for those in need in our community.
To sign up for the Community Meal which takes place every third Sunday of the month, click the link below or feel free to stop by Fellowship Hall at 11 am that day and enjoy fun times and great food with your fellow DPCers after worship on September 17!
And don't forget our monthly Food Drive also occurs that same day. Be sure to bring your donations to volunteers along Mechanics Street. Last month, we collected 780 pounds of food for the Bucks County Housing Group Food Distribution Center. Let's keep that momentum going!