Home > DPC Day at the Michener
DPC Day at the Michener
October 26, 2021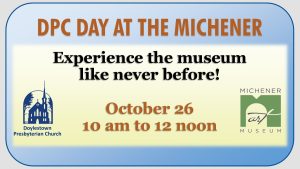 The Senior Adult Ministry Committee invites you to experience Doylestown's world-renowned art museum like never before…
Join us for DPC Day at the Michener!
From 10 am to 12 noon on Tuesday, October 26, our group will have the run of the museum – with private, exclusive access to exhibits, shops, and all the Michener has to offer!
During this time, we'll also have the opportunity to hear from painter Robert Beck, who the museum describes as ''an integral part of the Bucks County art scene."
Beck will discuss his current exhibit called It's Personal: The Art of Robert Beck and provide insight into his three decades capturing intimate moments of life in Bucks County and around the world.
The cost is $15 per person and we ask that you click the link below to register by Friday, October 22.
Checks can be made payable to DPC, indicating in memo area "DPC at Michener Event" and mailed to Doylestown Presbyterian Church, 127 East Court Street, Doylestown, PA 18901 or dropped off at the church office.