Celebrate the Arts Series
From our Director of Music and the Arts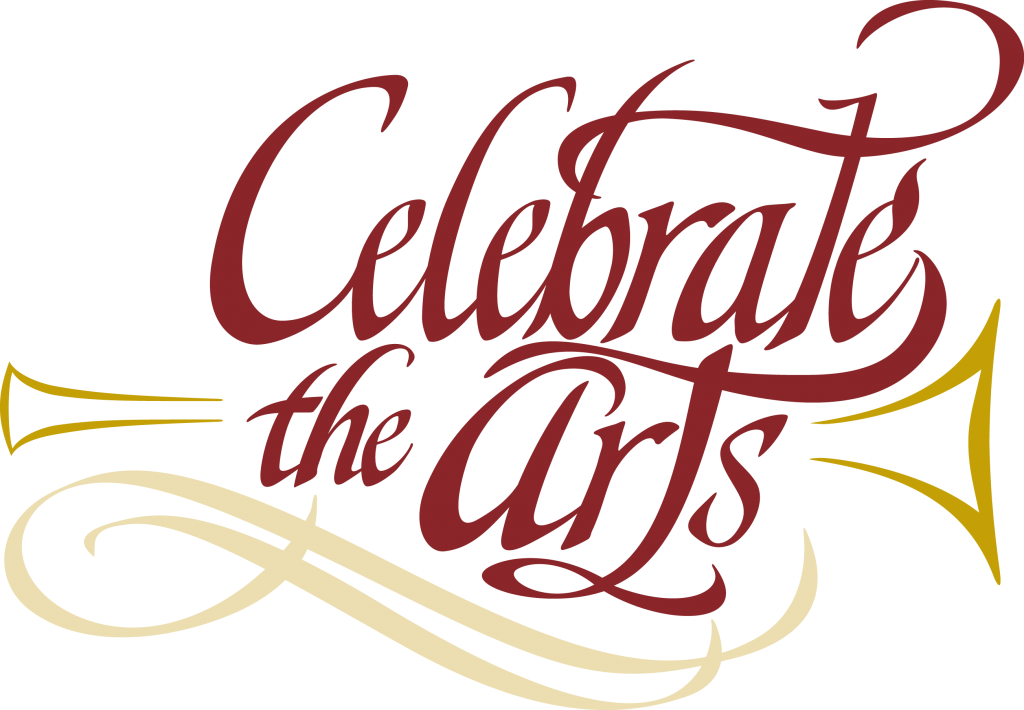 Dear Celebrate the Arts Supporters,
It is my pleasure to announce the 2022/2023 season calendar for Celebrate the Arts. Celebrate the Arts (CTA) at DPC is one of the ways we reach beyond the walls of our church and engage with our larger community. CTA has a long and rich tradition of bringing in the finest soloists and ensembles from the region and beyond.
CTA is entirely funded entirely by the generosity of our guests and supporters. You can donate online at http://bit.ly/2fenIXT, entering your donation under "Celebrate the Arts."
Those interested in sharing artwork for our seasonal visual art displays in the Celtic Cross Room should CLICK HERE to review the guidelines for submitting pieces. All shows (except for the Fiber Art display) will feature art of any medium as long it can be hung on a wall. This may include paintings, drawings, photographs, wood carvings, prints, etc.
– Jason Moore, Director of Music and the Arts
---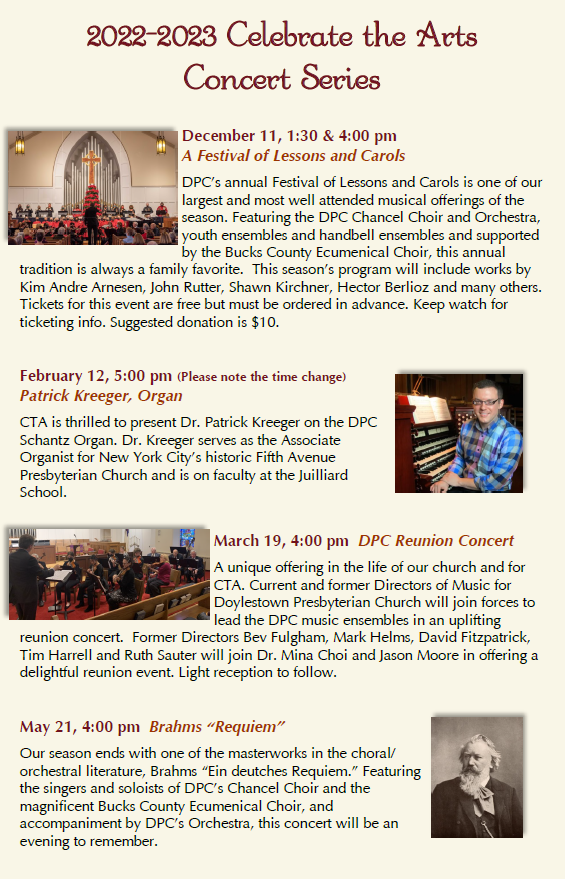 Celebrate the Arts Concert Series
Sunday, December 11 at 1:30 pm and 4:00 pm
A Festival of Lessons and Carols
DPC's annual Festival of Lessons and Carols is one of our largest and most well attended musical offerings of the season. Featuring the DPC Chancel Choir and Orchestra, youth ensembles and handbell Ensembles and supported by the Bucks County Ecumenical Choir, this annual tradition is always a family favorite. This seasons program will include works by Kim Andre Arnesen, John Rutter, Shawn Kirchner, Hector Berlioz and many others. Tickets for this event are free but must be ordered in advance. Contact the church office for ticketing information.
Sunday, February 19 at 5 pm (please note the time change)
Patrick Kreeger, Organ
CTA is thrilled to present Dr. Patrick Kreeger on the DPC Schantz Organ. Dr. Kreeger serves as the Associate Organist for New York City's historic Fifth Avenue Presbyterian Church and is on faculty at the Juilliard School. Please mark your calendar and join us for this must see event.
Sunday, March 19 at 4 pm
DPC "Reunion Concert"
A unique offering in the life of our church and for CTA. Current and former Directors of Music for Doylestown Presbyterian Church will join forces to lead the DPC music ensembles in an uplifting reunion concert. Former Directors Bev Fulgham, Mark Helms, David Fitzpatrick, Tim Harrell and Ruth Sauter will join Dr. Mina Choi and Jason Moore in offering a delightful reunion event. A light dessert reception will be offered following the concert so that our audience may join DPC's ensemble musicians in greeting the guest conductors.
Sunday, May 21 at 4 pm
Brahms "Requiem"
Our season ends with one of the masterworks in the choral/orchestral literature, Brahms "Ein deutches Requiem". Featuring the singers and soloists of DPC's Chancel Choir and the magnificent Bucks County Ecumenical Choir, and accompaniment by DPC's Orchestra, this concert will be an evening to remember.
Celebrate the Arts Visual Art Displays
November 22 — January 3 Christmas Display
Advent and Christmas give us occasion to sing beloved hymns and carols that recall incredible events of long ago. During our observance this year we will focus on ancestors in the faith who offered songs of thanksgiving and praise, confidence and wonder all in such a way that "every heart [might] prepare him room" anew.
January 10 — February 21 Fiber Art
Quilts, needlework, wall hangings, handmade clothing and more. Experience how texture and material bring these pieces to life.
February 24 — April 11 Sacred
This Lenten display will be guided by the Biblical telling of the last words of Christ from the Cross. In this show we challenge our artists to dwell on the richness of imagery of the crucifixion and of the last words of Christ. You are invited to join us in Sunday morning worship throughout Lent where Pastor Willingham will preach on the seven last words of Christ from the Cross. Then visit the visual display following worship to view artistic renderings of these powerful words.
April 14 — June 2 Members and Friends
Original art by DPC members and friends features two-dimensional pieces of any media. In previous years this display has showcased the exceptional talent and artistic passion found within so many of your fellow members and friends of the church. We are excited to share their gifts with you again.
June 26 — September 5 Children's Art
A show dedicated to the enormously talented children and youth of DPC. Join together as we encourage their creative spirit as they move forward along their journeys of faith.