Home > Celebrate the Arts Presents Clayton Mathews
Celebrate the Arts Presents Clayton Mathews
October 16, 2022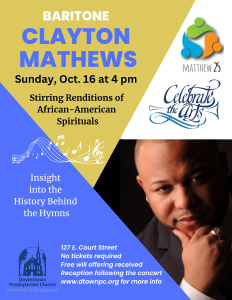 Celebrate the Arts Presents Clayton Mathews. On October 16 at 4 pm, Celebrate the Arts, in collaboration with the Matthew 25 Taskforce, will offer a recital of African American spirituals performed by baritone Clayton Mathews, who will share his incredible musical gifts with us as well as his knowledge about the spirituals he is singing. A reception of light refreshments will be offered in the Celtic Cross Room following the concert to allow our audience to connect personally with this talented performer. No tickets are required. A free will offering will be received.
"Individually we can express our frustrations, our sorrows, even our praise through our social climate in these spirituals," Clayton said. "That's the beauty of it. These spirituals aren't going anywhere. The longer we live, the more relevant they are."
As for the upcoming concert, the singer is excited.
"I want it to feel very relaxed," he added. "There may be times when I'll have the audience chime in and I want them to feel that if they know (the words), they don't have to hold it in. You can let it out!"
More about Clayton Mathews:
American Baritone Clayton Mathews, a native of St. Louis has been praised for his rich colorful tone and profound character interpretations. In 2005, he won the South Florida Chapter National Association of Teachers of Singing competition. He has performed professionally in opera companies across the United States and Europe. Mr. Mathews' most distinguished roles include Don Giovanni (Don Giovanni) Tarquinius (The Rape of Lucretia) Frederic (Lakme) Voltaire/Pangloss (Candide), Escamillo (Carmen), Amonasro (Aida), and Gulglielmo (Cosi Fan Tutte) and Count Ceprano (Rigoletto). His musical theatre roles include Javert (Les Miserables) and Agwe (Once on this Island). He premiered the role of The Maker in Fredric Chaslin's Opera Clarimonde for On Site Opera/Phoenicia International Festival of the Voice. Mr. Mathews brought to life "Mike" in George Gershwin's opera Blue Monday at the legendary Cotton Club for On Site Opera/Harlem Opera Theatre. He has also performed in many concert galas with the Miami Symphony Orchestra, Miami Music Festival, Newtown Chamber Orchestra and the Manchester Music Festival.
Mr. Mathews has performed currently the Undertaker and covered Crown (Porgy and Bess) for Semper Opera and Hamburg State Opera in Germany.