Sunday Morning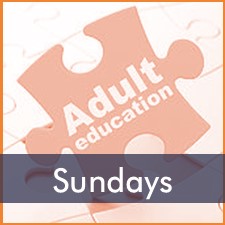 Adult Education
Sundays through May
Join us for any class, any week, as we put all of the puzzle pieces together with others on the same faith journey –  there is no long-term commitment required. Scroll down to see all we offer!
Bible Talk! Sundays, 9:30 am on Zoom and in-person, AH-120
Speakers will explore Scripture and will take a closer look at our understanding of Christ. This course will take place via Zoom beginning at 9:30 each Sunday with a hybrid class in AH-120. Coordinated by Tim Liebig.
This week: Guest speakers Lori and Chuck Christenson explore 2 Corinthians 6:14 ESV tells us: "Do not be unequally yoked with unbelievers. For what partnership has righteousness with lawlessness? Or what fellowship has light with darkness?" Paul was imprisoned in Rome and writing to Timothy one last time. Timothy was pastoring the church at Ephesus, and Aquila and Priscilla are there with him, still faithfully ministering (2 Timothy 4:19). To the end, Aquila and Priscilla were offering hospitality to other Christians, spreading the gospel they had learned from Paul, and rendering faithful service to the Master. Lori and Chuck seek to live a life of service to Jesus Christ in these things. However, there must a strong rock upon which their marriage is built in order to serve the Lord in this way.
Meeting ID: 897 5536 4563 Passcode: 016177
---
Good News and the Other News Sundays, 9:30 am, Ruth I. Hughes Memorial Library
Current events are discussed while reflecting upon the story from the perspective of faith. All are welcome.
This Week: A New York Times story broke last week about serious child labor law violations involving major brands in all 50 states that employ minor migrant children in dangerous occupations. We explore what our faith teaches about exploitation of children and workers for profit. This discussion is led by Jenny Danzis.
Classes led by Christo Claassens, Jenny Danzis, Pauline Sexton, and Jay Stough.
---
The Word Among Us Sundays, 9:15 am, AH-213
Join us as we study and appreciate the beauty of Scripture and how we can use it in our own devotional times with God. The class will meet in-person in AH-213.