Sunday Morning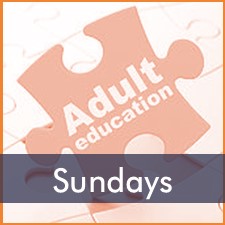 Adult Education
Sundays from September to May
Join us for any class, any week, as we put all of the puzzle pieces together with others on the same faith journey –  there is no long-term commitment required. Scroll down to see all we offer!
Bible Talk! Sundays, 9:30 am on Zoom and in-person, AH-120
Speakers will explore Scripture will take a closer look at our understanding of Christ. This course will take place via Zoom beginning at 9:30 each Sunday with a hybrid class in AH-120. Coordinated by Tim Liebig.
This week:
"The HOLY SPIRIT –  MAYBERRY STYLE" God's word finds itself manifesting through our lives in our daily activities. He picks ordinary people, like Barney Fife, to spread his message.  Sometimes we can witness the fruits of the Spirit on TV sitcoms. Join us this Sunday for an interactive talk on how The Andy Griffith Show reminds us that doing the right thing isn't easy; but it is rewarded in the end. We will reflect on Season 3 Episode 15:  "Barney and The Governor" with guest speaker Frank Hirsch III.
Meeting ID: 820 4164 3003 Passcode: 053792
---
Good News and the Other News Sundays, 9:30 am on Zoom and in-person, AH-204
*Good News and Other News is on hiatus until May 22. In the meantime, the class leaders are encouraging attendance at the ongoing Holocaust Series in the Celtic Cross Room which concludes on May 15.
Current events are discussed while reflecting upon the story from the perspective of faith. All are welcome. Led by Jenny Danzis. Classes led by Christo Claassens, Jenny Danzis, Pauline Sexton, Jay Stough, and John Willingham.
Meeting ID: 896 0579 0476 Passcode: 905128
---
The Word Among Us *This class has ended for the program year, but will resume in September!*
Join us as we study and appreciate the beauty of Scripture and how we can use it in our own devotional times with God. The class will meet in-person in AH-213. Led by Dick Cornelius and Margaret Thoresen.