Sunday Morning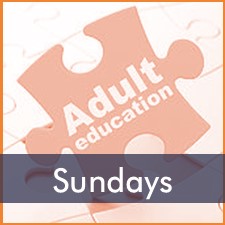 Adult Education
Sundays through May
Join us for any class, any week, as we put all of the puzzle pieces together with others on the same faith journey –  there is no long-term commitment required. Scroll down to see all we offer!
Bible Talk! Sundays, 9:30 am on Zoom and in-person, AH-120
Speakers will explore Scripture and will take a closer look at our understanding of Christ. This course will take place via Zoom beginning at 9:30 each Sunday with a hybrid class in AH-120. Coordinated by Tim Liebig.
This Week: Guest speaker Tony Ciaverelli reflects on Psalm 139:7-12 during a discussion entitled "Morning and Evening." Escapism, he says, is the true pandemic of the modern age. Let's start this season together, thinking and praying about who God is and how our connection with Him is truly the greatest gift ever given.
Meeting ID: 841 3877 4372 Passcode: 597255
---
Good News and the Other News Sundays, 9:30 am, Ruth I. Hughes Memorial Library
Current events are discussed while reflecting upon the story from the perspective of faith. All are welcome. 
Recently 5 Americans were exchanged for 5 Iranians and $5.9 Billion in a prisoner exchange. Can we put this in a Christian mind frame? There are 2 diametrically opposed governments involved. What if any is the role of the church in these situations? Would the same values hold true if those Americans held were guilty of the crimes they are held for? Come join the conversation.
Classes led by Christo Claassens, Jenny Danzis, Pauline Sexton, and Jay Stough.
---
The Word Among Us Sundays, 9:15 am, AH-213 – Classes begin Oct. 8
Join us as we study and appreciate the beauty of Scripture and how we can use it in our own devotional times with God. The class will meet in-person in AH-213.
Led by Dick Cornelius and Margaret Thoresen.