Sunday Morning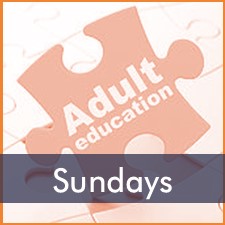 Adult Education
Sundays through May
Join us for any class, any week, as we put all of the puzzle pieces together with others on the same faith journey –  there is no long-term commitment required. Scroll down to see all we offer!
Bible Talk! Sundays, 9:30 am on Zoom and in-person, AH-120
Speakers will explore Scripture and will take a closer look at our understanding of Christ. This course will take place via Zoom beginning at 9:30 each Sunday with a hybrid class in AH-120. Coordinated by Tim Liebig.
This week's guest speaker: DPC's Pastor Becca Bateman discusses Jesus' Family Tree.
Many people know their grandparents, and sometimes their great-grandparents or great-great grand-parents, but what about knowing your great-great-great-great-great-great grandparents or even further back than that? Luke's genealogy and Matthew's version both have the names of many important men and women in Jesus' family tree. One of the great things about genealogies is that they remind us of where we have come from. The things we do in our lifetime may be recorded and remembered by someone fifty or one hundred, or even five hundred years from now. As we learn more about the members of Jesus' family tree, we understand our faith stories better.  
Join us at BibleTalk for a miraculous discussion.
Meeting ID: 897 5536 4563 Passcode: 016177
---
Good News and the Other News Sundays, 9:30 am on Zoom and in-person, Ruth I. Hughes Memorial Library
Current events are discussed while reflecting upon the story from the perspective of faith. All are welcome. Classes led by Christo Claassens, Jenny Danzis, Pauline Sexton, and Jay Stough.
Meeting ID: 817 6898 1590 Passcode: 607429
---
The Word Among Us Sundays, 9:15 am, AH-213
Join us as we study and appreciate the beauty of Scripture and how we can use it in our own devotional times with God. The class will meet in-person in AH-213.
This week: We continue exploring the Book of John as we focus on Chapter 8. As always, we encourage everyone's comments and questions. Led by Dick Cornelius and Margaret Thoresen.