Sunday Morning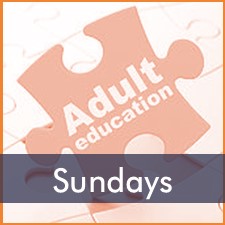 Adult Education
Sundays from September to May
Join us for any class, any week, as we put all of the puzzle pieces together with others on the same faith journey –  there is no long-term commitment required. Scroll down to see all we offer!
Bible Talk!
Sundays, 8:00 am on Zoom
The adult education offering will be continuing during the summer with a series entitled Who is Jesus? Speakers will explore Scripture will take a closer look at our understanding of Christ. The six-week course will take place via Zoom from 8 to 8:45 am each Sunday from June 20 through August 1 (with no class on July 4).
Direct Link: http://bit.ly/BibleTalkSummer Meeting ID: 847 2935 8285 Passcode: 838350
Coordinated by Tim Liebig.
Good News and the Other News
Sundays, 8:15 am on Zoom
Current events are discussed while reflecting upon the story from the perspective of faith.
Led by Christo Claassans, Jenny Danzis, Pauline Sexton, and Jay Stough.
The Word Among Us
Sundays, 10:45 am on Zoom – *for the group's final two sessions on May 2 and May 9, the start time will shift to 11:15 am.
This Fall, The Word Among Us class will embark on a study of one of the most beloved books of the Bible. The 150 Psalms are amazing expressions of heartfelt praise, petition and prayer offered by the Hebrews as they worshiped God. There are many types of psalms (e.g., praise, thanksgiving, and lamentation), reflecting the joys and hardships of real life. Join us as we study and appreciate the beauty of each of the Psalms and how we can use them in our own devotional times with God.
Led by Dick Cornelius and Margaret Thoresen.