Scottish Communion 2022
We celebrate the 50th year of this beloved DPC Tradition on July 17 at 9:30 am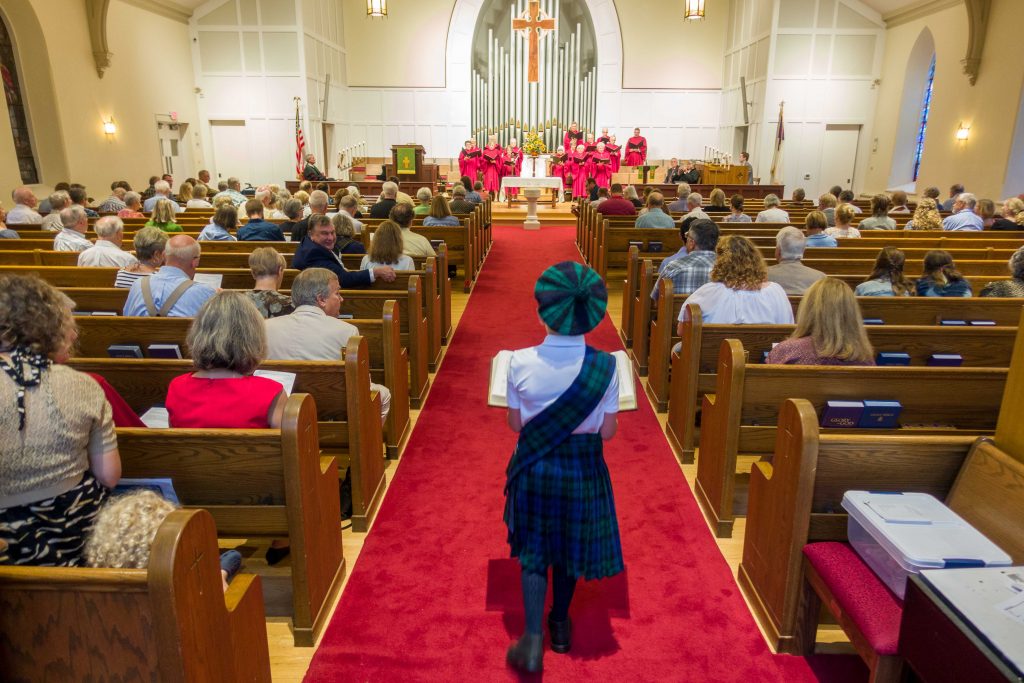 For many members of DPC, Scottish Communion has always been a time to celebrate and learn about culture, faith, and tradition. But for Naomi Darville, it has truly been a family affair.
Fifty years ago, her father, Stewart Montgomery – along with Rev. Ken Hollenbaugh and member Jamie Jackson, a native of Scotland – hatched an idea to focus on the church's roots and infuse elements of Scottish history and customs into a mid-July worship service.
Scottish Communion was born – and it has remarkably continued every year – even when forced to be observed virtually online in 2020 – for five decades. This year marks the 50th edition of the service as we gather at 9:30 am on July 17.
"This absolutely has a special place in my heart," says Naomi. "To know that these three gents had a forward vision for this – and that we are still doing it is amazing."
Stewart, who was in a bagpipe band, made sure to include pipers and sometimes drummers in the service. Naomi's mother, Miriam Montgomery, one of the saints of DPC who recently celebrated her 100th birthday, has been an integral part of the tradition. For years she helped prepare the young Scripture Bearers to perform their duty and assisted in organizing the service and time of fellowship and shortbread that follows.
"She has been the recordkeeper over the years," Naomi explains. "She has taken photographs and just charted the history. She's kept it alive."
As the years progressed, Naomi inherited some of her mom's duties and began helping the Scripture Bearers. And in preparation of this landmark year, Naomi has tracked down nearly all of those who served in this special capacity and invited them to attend on July 17 to be acknowledged.
"It's also been nice to even see people who are not members of our congregation attend over the years," Naomi said. "Some people in town just enjoy this particular service so they will come."
We hope you can join in this beautiful and unique tradition – and invite your friends as this can serve as a great way to show one of the many different ways this DPC family comes together in praise. As Naomi points out – you don't have to be Scottish, or even a member of DPC, to enjoy this day.