Worship with our Neighbors!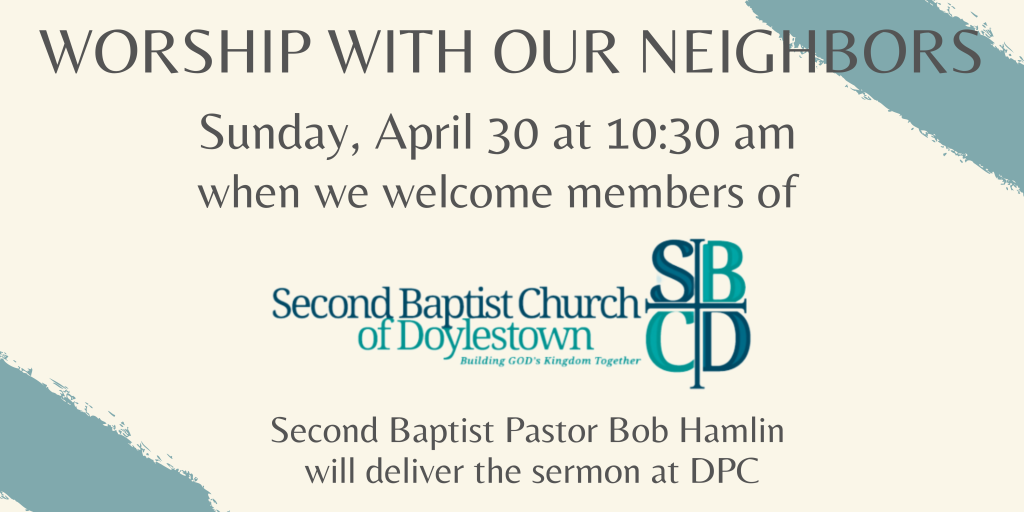 Back in November, we followed the path along our Matthew 25 journey into the welcoming sanctuary of Second Baptist Church of Doylestown.
On that Sunday, dozens of DPC members were welcomed with open arms to share in worship service with our neighbors. John Willingham delivered the day's sermon.
On April 30, we are excited to serve as gracious hosts when we invite the Second Baptist congregation and Pastor Bob Hamlin to our church for Sunday worship service. Pastor Hamlin will offer the message from the pulpit.
John Willingham is excited to take this next step forward in our relationship with our neighbors.
"I'm thrilled we will be hosting our friends from Second Baptist Church of Doylestown on April 30 and excited to hear Bob Hamlin preach and for and the "Back Bench Boys" to bring their musical gifts, too," John said. "I'm eager for our neighbors on Swamp Road to experience the hospitality of DPC as we celebrate again the unity found in Jesus Christ!"
Stay tuned for more details about this exciting day and feel free to watch the video below, which offers a recap of our time with Second Baptist last year.