Home > Worship with our Neighbors
Worship with our Neighbors
November 20, 2022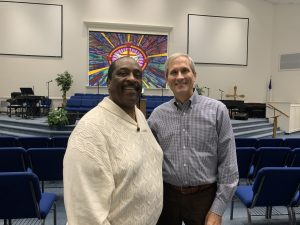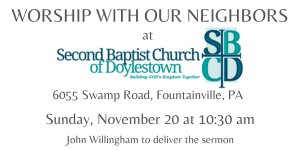 As part of a growing partnership with Second Baptist Church of Doylestown, our 10:30 am worship service this Sunday, November 20 will occur on the Church's beautiful campus, located at 6055 Swamp Road in Fountainville.
Our 8:30 am service will still happen at DPC, which will include Communion with Pastor Pauline Sexton preaching. All Sunday School classes will be cancelled that morning so that more of us can worship with this neighbor congregation.
John Willingham will offer the sermon at Second Baptist during the 10:30 service. Join us as we further reflect the unity we find in Christ and build new relationships as part of our Matthew 25 journey.
One of Second Baptist's talented musical ensembles "The Back Bench Boys" will share their enthusiastic praise during worship.
A cookie and punch reception will follow.
Those who are unable to join us in-person will be able to watch a livestream of the service on Second Baptist's website. CLICK HERE on Sunday to view the online service.
Please note: Volunteers will still be collecting food at DPC for our Mission Committee's monthly food drive on Sunday from 9:15 to 10:30 am, and the Thanksgiving edition of our Community Meal will welcome church members and our community friends in Fellowship Hall at noon.
Pastor Bob Hamlin and the entire Second Baptist Church Family are thrilled to welcome all DPC members and friends on Sunday. Click the video below for a special invitation from both pastors.