Home > To Be Told: A Special two-day conference
To Be Told: A Special two-day conference
October 28-29, 2022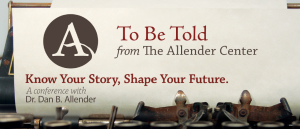 Join us for this special two-day conference that will focus on how our life story shapes our outlook, our tendencies, our choices, and how we relate to God and to one another.
We will meet in the Celtic Cross Room Friday, October 28 from 7:00 to 9:00 pm (Registration at 6:30) and Saturday, October 29 from 9:00 am to 4:30 pm. We'll be viewing engaging and insightful video presentations led by Dr. Dan B. Allender who offers an invitation to truth-telling, healing lament, deep soulfulness, and lasting change. To learn more about Dr. Allender and To Be Told, we invite you to visit his website by clicking here or view the video below:
DPC member Carole Hoffner has unique insight into the conference and Dr. Allender:
"I have had the great privilege of attending many of Dan's conferences as well as having been to his home in the Seattle area and he in mine here in Furlong," Carole says. "Dan lives on Bainbridge Island off the shore of Seattle and rides his motorcycle and Ferry to his office on the mainland. With a unique story of his own, as well as being a therapist and psychologist, Dan is no stranger to the suffering that comes as  a result of trauma and tragedy in one's life. He has a uniquely insightful and professional approach to addressing the sensitive issues that are part of everyone's life experience.  You won't want to miss this incredible opportunity!"
Church member Dave Sager, who is helping to run the conference along with Carole, says the weekend will be an experience of growth and healing. "Dan enabled me to explore the events in my past that made me who I am. He then set the stage for God and me to coauthor the rest of my life," says Dave.
The cost is $25 per person. You may pay the fee via check by mail to Doylestown Presbyterian Church, 127 East Court Street, Doylestown, PA 18901, offering plate, or in the Church Office. Checks can be made payable to Doylestown Presbyterian Church, indicating in memo area "To Be Told." Advanced registration is required.