Home > Advent All Together!
Advent All Together!
December 5, 2021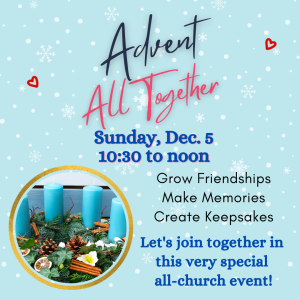 Advent All Together is a new way to joyfully celebrate this special season!
This is a time for all ages.
A time of togetherness.
Following 9:30 am worship on December 5, we invite you to visit any of the four stations we have set up on campus. You pick the order! Each one will feature an activity and an opportunity to connect with others – from the very young to the young at heart!
While creativity will abound – the focus this year is less about glitter and more about growing closer together as a church family.
The stations include:
·     Decorating a table runner for your household or as a gift
·     Enjoying the company of others over a warm cup of cocoa and a cookie (outside, weather permitting) while taking home a prayer request from a fellow DPCer
·     Creating a holiday ornament for a member of DPC who is homebound
·     And of course, you'll be able to leave with an Advent wreath that you created, along with a meaningful devotional to go with it!
DPC's Advent Mission Market will be open in the Celtic Cross Room, offering another way to mark this festive occasion by making a purchase to benefit those in need.
We are excited to gather together in this new way this Advent season! Don't forget to wear your mask!