Home > Tales of the Tuskegee Airmen
Tales of the Tuskegee Airmen
February 16, 2023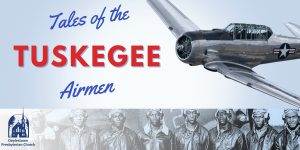 We have reached the limit for attendees. Thank you to all who registered!
The Tuskegee Airmen served with valor as the nation's first Black fighter pilots to see combat. However, in the eyes of many, that was not enough to earn recognition as an equal human being – let alone as a hero in post-WWII America.
For some of the Airmen, that struggle for racial and social equality remains a driving force, inspiring them to keep their legacy alive.
One of the Tuskegee Airmen, Dr. Eugene J. Richardson, Jr., will be visiting DPC in an event sponsored by the Matthew 25 Task Force and the Senior Adult Ministry Committee. Dr. Richardson will share his story and those of the pilots who provided protection for other aircraft flying over Germany during WWII. Join us for lunch at 12:30 pm followed by the presentation on Thursday, February 16. There is a $10 entrance fee which can be paid at the door.
We invite you to listen in as he shares their tales of bravery and courage in the face of threats abroad and social injustice at home. Click the video below to learn more about Dr. Richardson and the Tuskegee Airmen.
For more information about our guest speaker Dr. Eugene J. Richardson, Jr. we invite you to view the video below or visit the Greater Philadelphia Chapter of Tuskegee Airmen's website: HERE