Home > A Service of Light in the Midst of Darkness
A Service of Light in the Midst of Darkness
December 19, 2021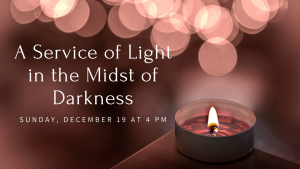 For those seeking a sense of hope and renewed spirit, we invite you to join with your church family on Sunday, December 19, at 4 pm for a special service prepared by Pastor Pauline Sexton and led by Rev. Christen Blore and the Deacons, with special music offered by Bev and Jeff Fulgham.
"Facing these holidays, which are infused with the idea of celebration and excitement, for many, that is just not their reality as their thoughts focus on loved ones they have lost, and with a sense of feeling alone," Pauline said. "The idea behind this service is to acknowledge that we are in the dark at times, but that we can also find light and joy together as a community of faith. We mourn, but we do not mourn as those who have no hope. We mourn but with the reality of our faith that says Jesus rose from the dead and conquered death. Our hope is in Christ and the presence of God that is with us even in darkness."
Join us in the sanctuary for this special time or visit our website for a Livestream presentation or our YouTube page to view the recording later.